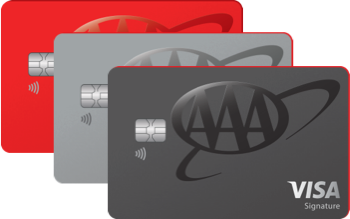 AAA Visa® Card Frequently Asked Questions
Using the AAA Visa® Card
Rewards
If you have the AAA Cashback, AAA Dollars
®
Plus or AAA Dollars
®
Visa Signature® Card, you can earn cash back for all qualifying net purchases
1
. Log in to your account and go to the Rewards Page. From there you can shop for a reward. You can also phone the Rewards Center at
800-328-4850
and a Rewards Service Advisor will assist you with your redemption.
If you have the AAA Dollars
®
Gas Rebate Visa
®
Card, your gas rebate is automatic and will appear as a credit on next month's billing statement.
2
Cash Back will remain in your account until 11:00 p.m. Central Time on the last day of the calendar quarter that is 5 years form the date on which they were earned. For example, if you earned 50 cash back rewards in May 2019, these cash back rewards would expire June 30, 2024.
1
Complete Program Rules are available on the Rewards Center website by clicking "Program Rules".
Yes, you can call the 24 Hour Rewards Center at
800-328-4850
.
Additional Questions
Yes, log into your account and select 'Services' from the top menu. Under 'Account', select 'Lock or Unlock Card' and follow the easy steps.
Yes, your AAA Visa can be used anywhere Visa is accepted.